How It Works
Before you buy cannabis, find out if the strain you're considering is the ideal strain for you, or if a different option may provide a better experience!
How does StrainRx work?
Our strain matching system identifies your ideal strain option(s) based on 4 sets of criteria, with a local filter to help you find what you need nearby.
First, select the class of cannabis you desire. Indica, Sativa, or Hybrid are your options, and you can choose one, all, or skip this choice entirely.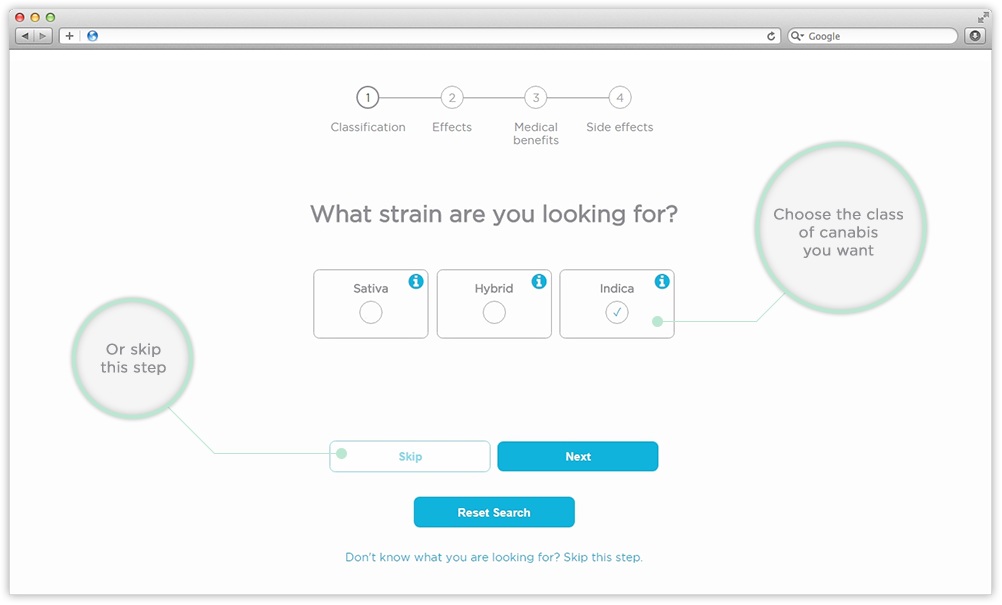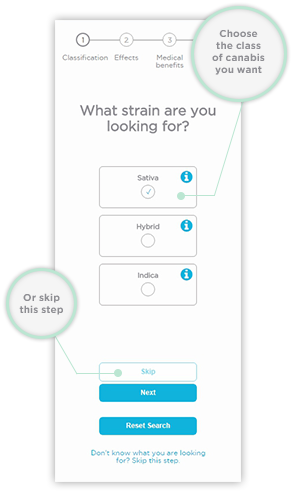 Smoking recreationally?
Take advantage of the EFFECT related options! Choose up to 5 and configure a desired potency for each.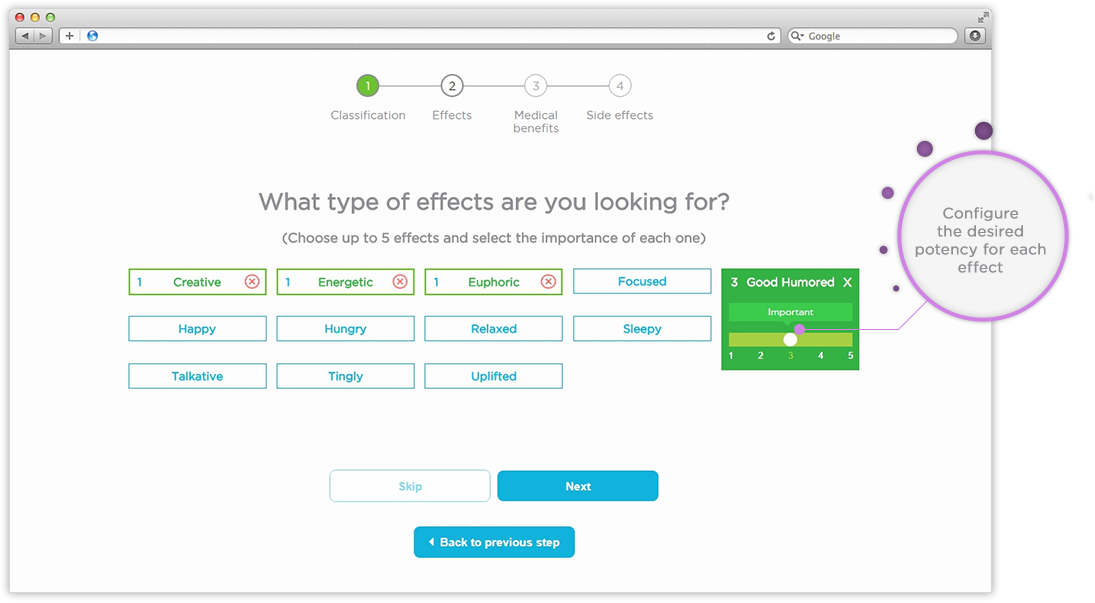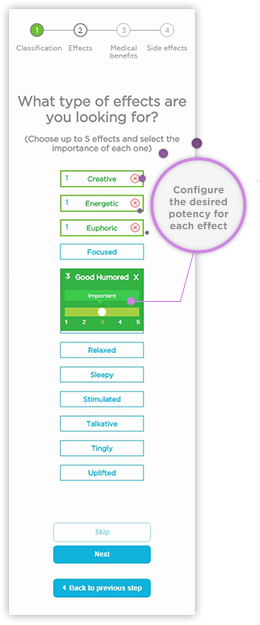 Medical marijuana
You have the opportunity to configure the desired benefits you hope to derive from using cannabis. Select from 13 ailments that include relief from conditions such as chronic pain, insomnia, and fatigue. Much like with effects, the potency meter indicates the importance of each selection. Users with no medical concerns can choose to skip this step as well.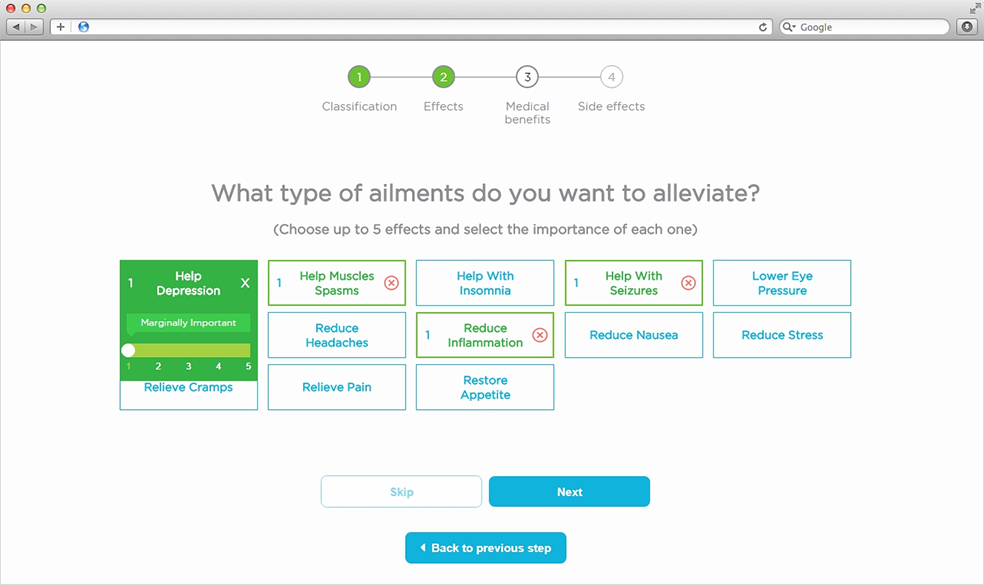 Side effects?
Finally, our wizard allows you to specify any sensitivities to the known side effects brought on by cannabis use. If a strain is known to produce the effects you deem to be undesirable, we'll make sure to exclude it from the final recommendation.
Don't care about a little dry mouth? No problem, just skip ahead!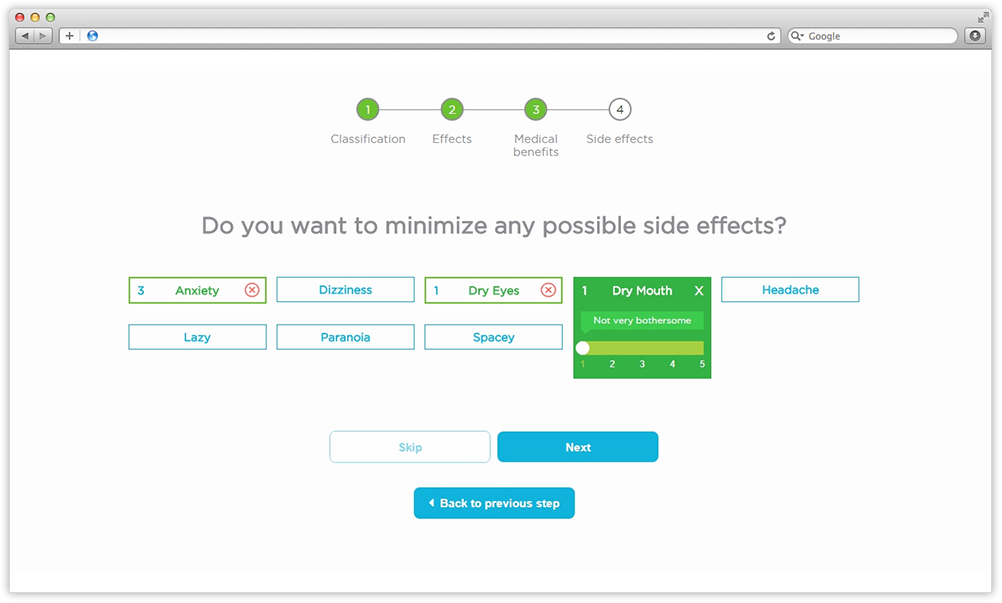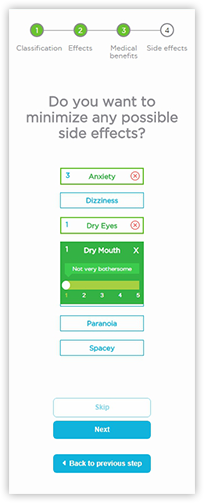 Results
Your customized results are ready! Now you can compare prices, read reviews, and find the vendors closest to you.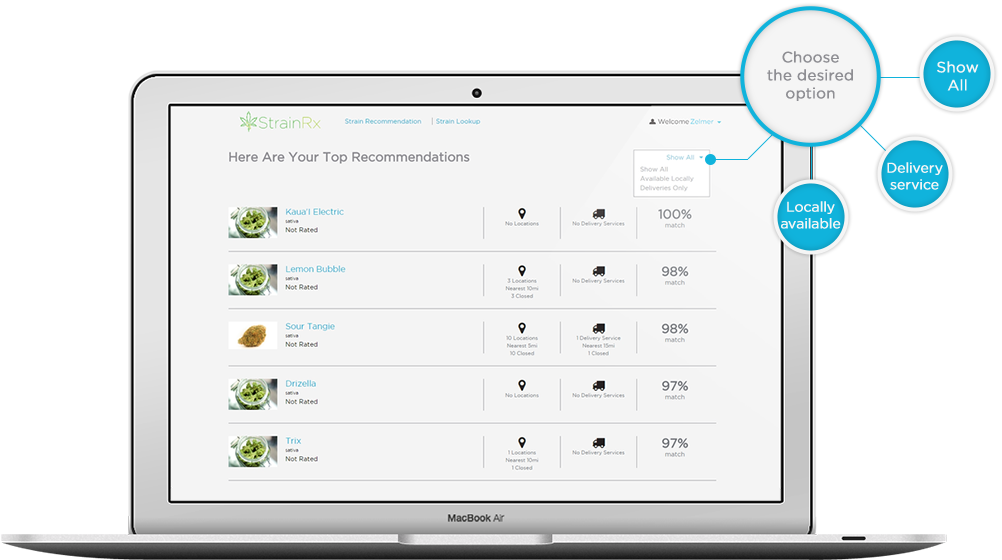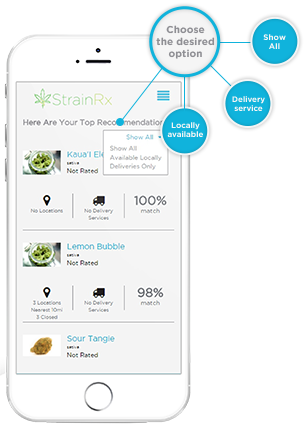 Every strain goes through a lengthy research and scoring process before it is published on StrainRx. There are five primary stages to this process:
Before a strain is added to the site, we first interview the master grower to learn about the unique characteristics of each plant directly from the individuals primarily responsible for its existence. Strains are evaluated according to criteria relating to soil, lighting, and nutrient base.

Second, and with further support from the cultivator, we conduct extensive research on the history and lineage of each strain, ensuring that an accurate genetic profile is included.

When product is available for sampling, we distribute samples on a double-blind basis to a panel of certified judges and collect their inputs. We proceed to normalize the data (excluding any outlier feedback), and utilize the averages to further fine-tune each strain's attributes and synthesize a profile.

Finally, we adjust the strain values according to 3rd party laboratory tests. Based on cannabinoid content and terpene profile, as measured by pharmaceutical-grade equipment, values are updated to correlate with the known therapeutic properties of the identified contents.

Each Strain Details Page (SDP) is equipped with a "feedback" module, where users are able to modify the strain profile based on their individual experiences. Our system detects statistically significant input and makes adjustments to further democratize the strain attributes we report based on valid user input.

There are lots of online resources for cannabis information, so why should you choose StrainRx over the alternatives? Because trust matters the most and with us you can always count on finding the most reliable information available.